Create Your Own Two-Year Marriage Contract – Join Us!
Two-We

ekend Workshop


Total Six Hours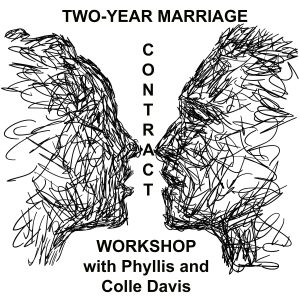 3 hours first weekend and 3 hours second weekend
Due to the workshop constraints of social distancing, we are offering our workshop online on the Zoom.com platform.
Meeting participants will be able to 'meet' other couples online in real-time.
You will be able to hear and see each other in our online format. Participants will be also able to share and hear others share.
 November 6, 7, 2021 & November 13, 14, 2021
$280.00 per couple
Choose the workshop you'd like to attend:
* First weekend – November 6, 7, 2021
November 6, 2021 – Saturday from 8am to 9:30am
November 7, 2021 – Sunday from 1pm to 2:30pm 
* Second weekend – November 13, 14, 2021
November 13, 2021 – Saturday from 8am to 9:30am
 November 14, 2021 – Sunday from 1pm to 2:30pm 

December 4, 5 & December 11, 12, 2021
$280.00 per couple
* F
irst weekend: December 4, 5, 2021
December 4, 2021– Saturday from 8am to 9:30am
December 5, 2021 – Sunday from 1pm to 2:30pm
* Second weekend: December 11, 12, 2021
December 11, 2021 – Saturday from 8am to 9:30am
December 12, 2021 – Sunday from 1pm to 2:30pm 


February 5, 6, 2022 & February 12, 13, 2022
$280.00 per couple

Workshop Agenda for the Two-Year Marriage Contract
Here are the seven areas of discussions explored in our workshops. In private, you will create agreements in the following seven areas to include in your Two-Year Marriage Contract you will sign on the final day of this workshop.
FAIR FIGHTING— Houston, we have a problem
Fair Fighting is vital to a happy relationship to create trust and happiness. Love comes and goes in all marriages. It ebbs and flows. Marriage is your opportunity to begin once again by loving and forgiving your spouse and then forgetting. Hopefully, there are enough good qualities in your marriage to balance the disappointments and resentments you have experienced.
Fight, but fight fairly. The number one reason for divorce in the 2020 and 2021 is related to issues of drug and alcohol addiction.
The second reason for divorce is the habitual avoidance of conflict. Learn how to use marital negotiation skills so you can fight fairly and reduce the stress in your home.
SEX — Creating your Sexual Boudoir — Ohh Laa Laa
Happiness and satisfaction can inspire a good sex life. A good sex life does not create happiness and satisfaction in a marriage. Learn new ways for creating passion in your marriage by asking and answering revealing questions about your preferences for foreplay, sexual intercourse, and afterglow. There is nothing sexier than asking for what you want sexually and then getting exactly what you asked for from your lover. You will include your answers to these one hundred sex-related questions into a blank template at the end of the workshop to include in your Two-Year Marriage Contract.
MONEY – The Elephant in the Living Room
Couples struggling with their financial situations talk about their lack of money or their fear of not having enough money. Or they completely avoid the subject of money until they have financial crises which only reinforces their problems. They may also blame their circumstances or other people for the fact they do not have money. They could change their discussions about their lack of money and begin talking about innovative ideas to create money and then joining their efforts to increase their cash flow.
FAMILY AND FRIENDS — Yours, Mine and Ours
We are all out of practice (justifiably) for getting together with friends for dinner, going on picnics or attending events together. Maybe now is the time to learn to make new friendship skills to use when creating a new circle of friends when the pandemic is under control, and we can move forward. You have changed. We have all changed since Covid-19 and Delta rolled through our lives beginning in March 2020. It is time for you to make new friends to add meaning to your life.
ROUTINES AND HABITS — Toothpaste Tubes and Dirty Tube Socks
If you discuss your routines and habits and acknowledge what you want, instead of harping on the things you do not want, you will have a greater chance of creating a life that works for you as a couple if you stay positive. There's safety in routine. There's even refuge in it. When life is terrible, and you make it home with the milk, you feel safe. When you and your spouse are happy in your marriage, your routines and habits soothe you like nothing else in this world can.
LIVING ARRANGEMENTS — There's No Place like Here
The pandemic made our homes a haven and yet, the walls seemed to close in on us at times.
Your residence may change over the years as you move to accommodate the changes in your lives. Factors for your living arrangements may involve limitless factors including your ages income, profession, desire to be close to family, love of ocean or mountains, good school districts for kids, urban or suburbs or country setting, health issues or deciding to live in another country.
Now's the time to discuss your living conditions and make plans for your future. Your home changes over the years as you move to accommodate the changes in your life. This chapter addresses your living needs as a key factor in your marriage. Address your present living requirements and make plans.
SOCIAL EXPECTATIONS — Recreation means Re-Creating Yourselves
The pandemic has fundamentally changed who we are, and that means it is time to look at what kind of life we would like to have in the future.
We are all socially awkward after eighteen-months or more of isolation with pandemic restrictions. As we begin to look ahead, begin with small plans, and build from there.
Simple pleasures are a great comfort in married life, but without enough pleasure, it is easy to blame your marriage as well as the pandemic for feeling dull and lacking in joy.
Hobbies, friends, holidays, celebrations, and parties are all ways to express your personality, and they are important components to the health of your marriage. Learn to play to keep your marriage interesting and happy. Do you allow yourself time to play? How much happiness will you allow yourself in your marriage?
Formal Signing Ceremony of Two-Year Marriage Contract
Take your drafts that you created at the end of each of the previous chapters in each section of the workshop and make a final document for signing with a template you provide you.
Every two years you will take out your Two-Year Marriage Contract and talk about the seven issues again to make minor adjustments.
After you have completed your questionnaires, now it is time for you to sign your Two-Year Marriage Contract. You will reexamine your agreements again in two years so you can re-officiate your own Two-Year Marriage Contract.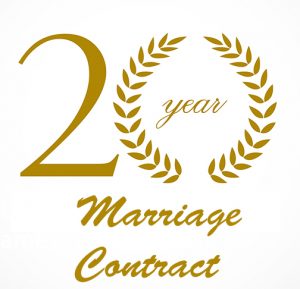 Online Location for workshop:  Zoom.com.
Fee:  $280.00 couple.
We accept PayPal which also offers Credit Card Payments: Full Tuition fee must be paid to reserve space.
This workshop is limited to a few couples at a time. Book your reservations today. 
Please call for more information to reserve your space. 
EMAIL    804-467-3752