BIOGRAPHY OF AUTHORS, PHYLLIS AND COLLE DAVIS
You don't need therapy. You need education!
You won't be asked to look back. Instead, you'll be invited to plan for the future.
Phyllis and Colle Davis have taught the Two-Year Marriage Contract since 1996 to couples across the country. Since the pandemic, they are now offering their course online in a Zoom format. They have mentored couples toward a deeper understanding of themselves, their spouse or partner, as well as educating them about their living, breathing, ever-changing relationship.
The Davis' have wonderful advantage. They weren't born experts, sages, gurus, or marriage czars but they have studied at the feet of those who have earned those lofty credentials for many years.
When asked to describe themselves, they said, "We're normal, married people just like you. We have observed, trained, studied, researched, and traveled all over the US to work with small and large groups. We have worked with real people and we're reporting what we've seen, and done, and found effective for other couples. The Two-Year Marriage Contract works because it makes sense to a lot of people who have improved and reignited their love connection for each other, two years at a time. We've seen it all, and we've heard it all, and we're here to teach it to you in a simple and understandable way to improve your relationship, and you'll have some fun along the way.
"But don't take our word for it. Do it. Invest the time and take a chance. You have a grand opportunity to get the things you really want for your marriage. The Two-Year Marriage Contract can make your dreams come true. It speaks the unspoken, forges a bond, and gives both parties the chance to live happily ever after two years at a time."
When Phyllis and Colle met in 1996, they wrote the original book and workshop for the Two-Year Marriage Contract and taught it for three years. During those three years, they fell in love and married in 1999 and have continued to teach their work with couples for twenty-five years (when their schedules permit).

The Davis' live a full life on their small ranch they call "Jelly Side Up Farms" which is eleven miles North of Richmond, Virginia. They live with their two Cavalier King Charles Spaniels, Scarlet and Kalli.
Their home is an 80-year old renovated Episcopal Church. Their living room was originally the Sanctuary Hall, and their bedroom was the Chapel.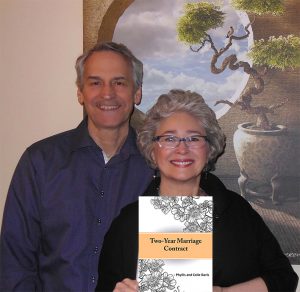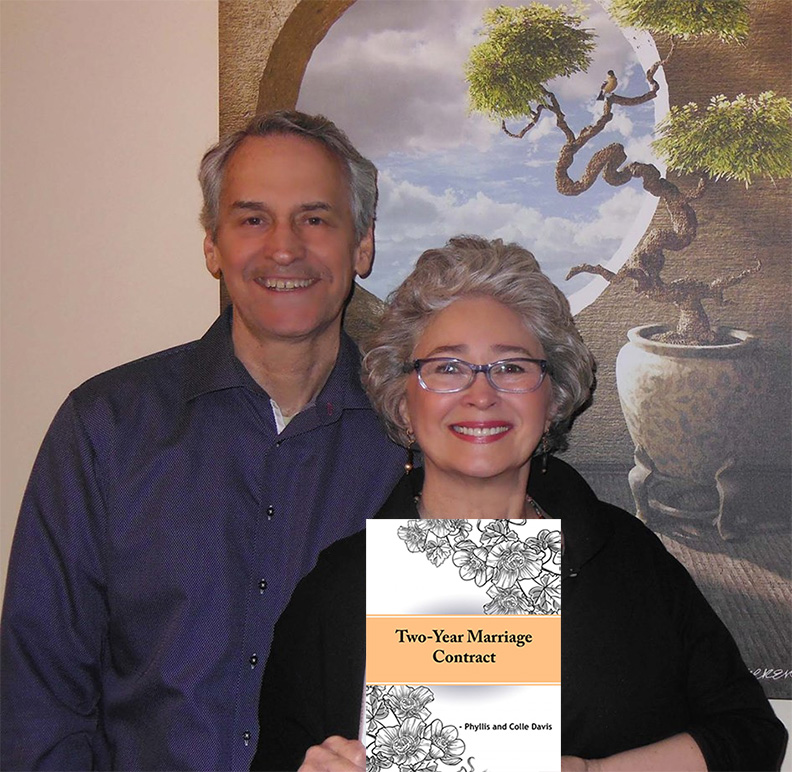 Colle Davis is a world-famous Certified Master Coach and Executive Coach. He is author of seven published books, speaker, and author of My Coach's Notes. He specializes in conflict resolution and is trained in REM, Approach to Conflict Resolution for Couples Therapy. He is also Managing Partner of Concept to Licensing LLC and PFAS LLC and lead inventor for Portable Farms® Aquaponics Systems. Colle Davis is also Owner and Director of Aquaponics University.
Phyllis Davis is the author of eight published nonfiction books and one yet-unpublished fiction thriller-novel. She is an Ethics Expert in American Business. She is a speaker, Executive Coach and Founder and Director of American Business Etiquette Trainers Association. Phyllis Davis is certified as a PAIRS Instructor and has studied with PAIRS Founder, Lori Gordon, PhD. Phyllis is also a student of Pat Love PhD, sex therapist and author of Hot Monogamy. She is also Partner and Owner  PFAS LLC and co-inventor of Portable Farms® Aquaponics Systems. She is also Partner and owner of Concept to Licensing LLC and the Co-owner and Dean of Aquaponics University